A WORD FROM THE FOUNDER:
THIS MOMENT
I just got back from my first true vacation in over 25 months. It was everything I needed – solo hiking in Yosemite National Park, the most beautiful wedding in Santa Barbara for friend & Ethos trainer Adelie Duffy, and then a journey to Venice to hang out and sweat with another Ethos trainer, Jackson Metcalf, and his friend Logan, owner of Deuce gym. It was 7 full days of everything I wanted, and as I write this, needed as well.
And while all these experiences were amazing, the funny thing is that the most brilliant part of the trip was climbing into my rental truck, rolling down the windows, losing service, and listening to (and oddly enough, enjoying) the Spanish music over the radio because I couldn't figure out the bluetooth (user error, of course). Obviously, being on my own for hours on hours while driving across the state of California made my mind start to go places it hadn't been in a long time. It was extremely peaceful and it made me really start to think about what I, myself, my teammates, friends, and this entire world went through over the past 25 months. At that moment, I allowed the perspective that I'd gained after these long, hard, depressing, and adverse months to truly settle in and it started to make me feel extremely grateful for my life. It made me break it down to the simple things like my health, my family, my friends and my business. As we get older I believe we start to realize how rare it is to have all these things working well and moving in a positive direction. We can also start to get too caught up in the negatives of the world and the rush of our daily lives, and we unfortunately forget how beautiful this current moment is for us. Our appreciation for the simple things gets lost and we forget that within the blink of an eye one of those simple things could disappear with the loss of something or someone very important.
I'm writing this with the hope of reminding you that this minute of this hour of this day can be your best moment if you choose it to be! Life is tough and most of the time we seem to only make it tougher by looking at our screens, reading things we shouldn't be reading, and listening to things we shouldn't be listening to. It's ultimately our choice, what we make of this very moment.  So please do me a favor after you finish the last sentence and take just 10 seconds to close your computer or put down your phone. Take a couple of deep breaths and soak in how beautiful this moment in this all too short life actually is.
Head up, chest out, feet forward.
Stay the course.
Joey Welling
Founder of Ethos Athletic Club
Charleston, S.Carolina
---
MEMBER SPOTLIGHT
NELSON BURCH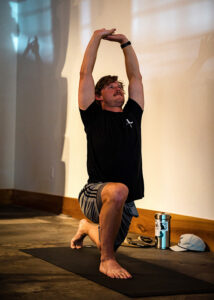 • What fuels your workout?
RUSH class gives me an hour separation from the stresses of the real world. It also reminds me of that Team workout setting from growing up & in college where we can compete & push each other to be the best versions of ourselves, all while having fun doing it.
• Why Ethos?
Joey was the first connection because we went to The Citadel together, but I love Ethos because of the coaches & members, and the community it has become! Walking in the door always puts a smile on my face & I can't wait to see, talk to & wave at all of the familiar faces on my way to class.
• What do people NOT know about you?
I was a member of The Citadel football team in college & I tore my ACL in each leg during that time – one sophomore year & one senior year. They are sore from time to time, but going to RUSH helps keep them strong!
---
NEED TO KNOW
• Air Conditioning: We'll be installing AC throughout the gym over the next several weeks. Because of this, there may be a few days where areas of the gym and/or classroom will be closed off. We'll notify you in advance of any closure, but you'll notice the work has already started.
• Men's Locker Room: The steam room repair will be complete this week & the heat issue will be complete during the AC install.
• Parking: A friendly reminder that it's legal to park in the neighborhood across the street, but please be respectful & courteous of our neighbors & do not park directly in front of their homes (avoid the two sides with steps).  Also, with construction complete, we're now able to park under the overpass on both sides of Huger St.
• Bikes: We have a bike rack near the overpass parking lot.  Please do not lock bikes on the platform or stairs.
• Deck: We're getting ready to open the garage door cafe off of the & add outdoor seating once the railing is complete.
• Easter: We'll be closed on Sunday, 04/17.
• Sound Healing & Guided Mediation w/ Samantha Noel
Saturday, 04/09, 12:30PM – 1:45PM
Member Investment: $25 [$35 non]
• SC Stingrays Final Home Game
Saturday, 04/09 @ 6:05PM
Click Ethos Member Tickets & select section 126 (Team will be beside you in 124)
• Full Moon Ceremony w/ Allison Forbes
Friday, 04/15, 5:30PM – 6:30PM
Member Investment: $15 [$25 non]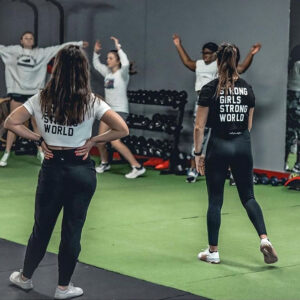 Girls Gone Buff Summer Camp w/
Emily Steele
&
Maysa Hannawi
June 13 – 17; 1PM – 4PM
Age Range: 10 – 15 yrs old
Girls Gone Buff is a health program about empowering pre-teen & teen girls through exposing them to strength training, while also educating them on the importance of taking care of their bodies & feeling good in their skin. Maysa & Emily started GGB to introduce girls to lifting, healthy eating, body positivity & self-confidence at a young age, because the world they envision is made up of women who have these skills. Check out their WHY & sign up link.
---
NOURISH TO FLOURISH
Spring Salad by Maggie Young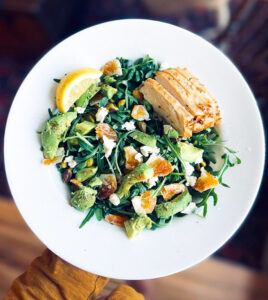 • INGREDIENTS:
Arugula/Mixed Greens
Pistachios
Dried Mandarin Oranges
Sliced Avocado
Goat Cheese Crumbles
Mint [chopped]
Chicken
1 tbsp EVOO
2 tbsp Apple Cider Vinegar
• NOTES FROM MAGGIE:
Super Simple. Super fresh. Super delicious. I'm all about convenience these days. This literally took me less than 5 minutes.  It's bright, flavorful & GOOD FOR YOU – the perfect lunch or side dish.
---
Win The Day