A WORD FROM THE FOUNDER:
YOU DECIDE 
It's rare that we hear people say that social media and the internet are positive. They could be right; hell, over the years I'm guilty of saying how negative it is. For the past couple of months I've thought a lot about this, though, and the question that keeps ringing in my head is, "Isn't it my decision?"
Just like with pretty much everything else in our lives, isn't it our decision what we choose for ourselves, and maybe more importantly, isn't it our choice how we want to perceive something? We are fortunate enough to have our own mind; we can make our own decisions about which direction to go, and we can also decide if a rainy day is going to make us grouchy or make us happy. You see what I'm getting at here? We choose what we give our attention to and how it will impact us. Yes, I agree there are some truly awful subjects and events that occur, but isn't it our choice to follow, watch or read those who thrive on negativity? Instead, couldn't we use this technology and platform as an opportunity to become better humans, in what we both consume and post? We could get up every morning and choose to watch @jockowillink to get us motivated to workout and set ourselves apart as leaders that day. We could choose to follow @dollyandoatmeal to help us learn how to whip up a killer chocolate chip cookie or something healthy for our significant other or family. We could also choose to watch @goodnews_movement to put a smile on our faces and give us momentum to help someone else in our day, which they then pay forward.
So, next time you find yourself judging someone's video or your blood pressure boiling over what another person is writing online, just remember it's your choice to read, watch or react to whatever it is they post. You have the choice to be the difference.  You have the choice to balance out the negativity by ignoring, unfollowing or by posting something inspiring yourself. Change the tide and use your power to make this a great day, and make this life of yours everything you ever wanted it to be. Stop complaining or blaming others, quit talking about that thing you want to go do or build one day, and go out and be the change today!
Joey Welling
Founder of Ethos Athletic Club
Charleston, S.Carolina
---
MEMBER SPOTLIGHT
CAITLIN CLANCY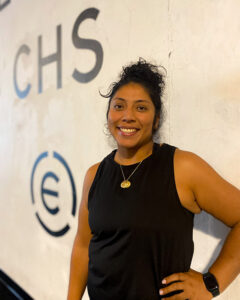 • What fuels your workout?
Over the last 10 months I've battled anxiety & depression after an event that shattered my world. Prior to that, I'd workout here & there, but health & fitness were on the back burner. After some really tough days, I found that working out was the only hour where I felt accomplished & strong. So I've taken that & used it! My workouts are fueled by me knowing how beneficial they are to my mental & physical health & the building blocks for the best version of myself.
• Why Ethos?
I've learned how special the combination of fitness & community is for people. At Ethos, the community you feel is so special. From the front desk staff greeting me & saying goodbye with a smile, to my personal trainer, Chad, pushing me to limits I didn't know I could reach. I also think the message has been clear from Day 1: Ethos wants to provide a space where you can get better & the people surrounding you want you to get better.  It's just special.
• What do people NOT know about you?
I'm adopted from Guatemala. I think it's what has made me appreciate life & all the opportunities I've had. Being raised by a single mom, who doesn't look like me, I guess somehow helped me truly come to appreciate unconditional love. Here is this person, she chose me & my brother, and continues to choose us through all of life's ups & downs. My mother is my greatest gift.
---
AROUND THE CLUB
•  Tres Palmas has NEW hours!
• Check out these key concepts from Made2Move on how to incorporate progressive overload into your training.
• Dreamboats Recovery Night Out
Tuesday, 07/12, 5:30 – 7PM
Joey Welling, Basic Kitchen & Synchronicity
Tickets: $20, with all proceeds to Dreamboats & Green Heart
• Charleston AMA Coffee Talk
Friday, 7/15, 8 – 9AM @ Ethos
Speaker: Joey Welling, "Wake Up. Give Thanks. Work Hard."
Tickets: $10
• Thrive Total Wellness
Saturday, 07/23, 8:30 – 11:30AM in the cafe
$20 B-12 & $30 MIC + B12 Shots
• Sprint Triathlon Series
Sunday, 07/31 & Sunday, 08/14
We have 3 EAC Member Registrations up for grabs for each.
• Full Moon Ceremony w/ Allison Forbes
Wednesday, 08/10, 7 – 7:45PM
Members: $15 | $25 Guests
• Magnolia Labs: a Social Club for Female Entrepreneurs
Wednesday, 08/17, 5:30 – 7PM @ Ethos
Speaker: Dr. Nicole Rivera | Drinks: Graft Wine Shop
Tickets: $10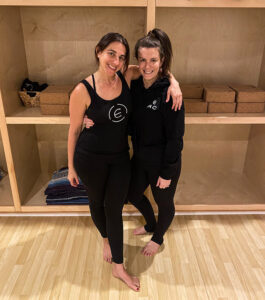 • Yoga Essentials Workshop w/ Shayna Levy & Michelle Gottfried
Saturday, 08/27, 10AM – 12PM
Members: $25 | $35 Guests
---
NOURISH TO FLOURISH
Flatbread by Ryan Tewksbury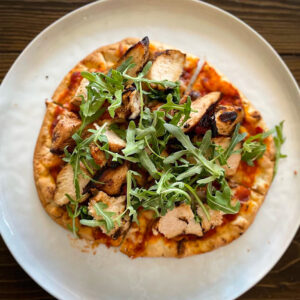 • INGREDIENTS:
Garlic Indian Bread or NAAN
3 TBSP Tomato Basil Sauce
1 oz cheese of your choice
Grilled Chicken
Arugula
• DIRECTIONS:
Preheat oven to 450º
Bake for 12 – 15 min
---
We'd appreciate if you'd share the Ethos love & fill out this Google Review
Now, go WIN THE DAY!